---
BBQ Steak and Roast Pepper Salad
---
INGREDIENTS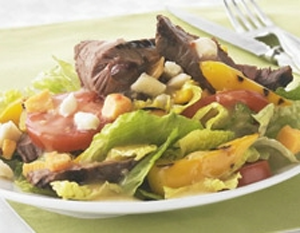 5 cups torn romaine lettuce
2 small plum tomatoes, sliced
1 yellow pepper, halved, grilled and cut into strips
1 lb. beef steak, grilled, sliced
1/2 cup shredded cheddar cheese
1/2 cup Italian Dressing
DIRECTIONS
Season steak with salt and pepper and grill steak to desired doneness.
Cut peppers in half, brush with Italian dressing and grill for about 3-4 min on each side.
To build the salad; cover 4 salad plates with romaine.
Top with tomatoes, peppers, meat and cheese.
Drizzle with dressing just before serving.