---
Mint Sake & Pinapple Cooler
---
INGREDIENTS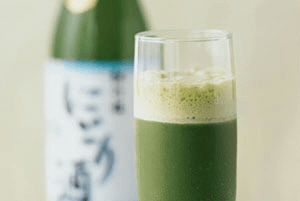 1 1/2 cups loosely packed mint leaves (about 1 ounce)
1 cup sake or vodka
1/4 cup sugar   #09580
20 ounces pineapple juice   #10215
1/4 cup lime juice   #10257
Pineapple slices (optional)   #12185
Splash of gingerale (optional)
DIRECTIONS
Combine mint, sake, and sugar in a blender; process for 2 minutes or until mint is very finely chopped.
Strain sake mixture through a fine sieve over a bowl; discard solids. Stir in 12 ounces pineapple juice and lime juice. Chill. Pour the remaining pineapple juice into 1oz portion-ice cube tray and freezer.
Combine 5oz of the sake mixture and 2 frozen pineapple juice cubes in a blender; process until thoroughly combined.
Garnish with pineapple slices, if desired.
Add a splash of gingerale and stir, if too sweet for you.