---
Barly Dill Soup
---
INGREDIENTS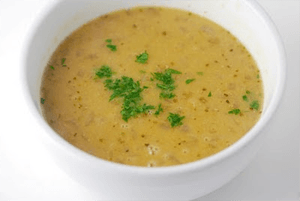 2 tbsp oil
2 lg. onions, chopped
1 cup sliced mushrooms
1 cup barley   #02105
4 cups seasoned stock
1 cup yogurt or buttermilk
1 tsp dill weed
DIRECTIONS
Heat oil in heavy pot.
Add onion and saute until golden.
Add mushrooms and barley and stir until barley is toasted and onion is brown.
Add stock.
Cook until barley is done, about 45 minutes to an hour.
Remove from heat, let cool a bit and add the yogurt and dill.
Serves three to five.