---

Blackened Catfish with Creole Vegetables
---
INGREDIENTS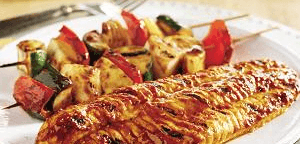 2/3 cup barbecue sauce
1/3 cup FRANK'S® REDHOT® Chili n' Lime Sauce
2 tbsp. Southwest chile seasoning blend or Cajun blend seasoning
1 tbsp. olive oil
4 (6 oz.) skinless catfish or sea bass fillets
Salt and pepper to taste
Grilled Vegetables
DIRECTIONS
Mix barbecue sauce, Frank's Hot Sauce, seasoning blend and oil.
Reserve 1/2 cup mixture for Creole Vegetables.
Season fish with salt and pepper to taste.
Baste fish with remaining barbecue mixture.
Cook fish on a well greased grill over medium direct heat 5 min. per side until fish is opaque in center, turning once.
Serve with Creole Vegetables.