---
T-Bone with Roasted Onions and Okr
---
INGREDIENTS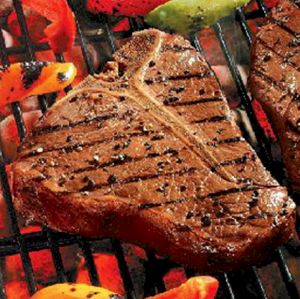 4 lg. red onions, peeled and sliced 1/4 inch thick   #87037
1/2 cup butter   #44110
4 (16oz) T-Bone steaks   #59516 (rubbed with salt, freshly ground pepper and olive oil)
Select BBQ sauce   #06380
2 lg. vine ripe tomatoes, peeled, halved, seeded, chopped and drained
Hellman's Balsamic Vinaigrette Dressing   #05511
Deep-fried okra
DIRECTIONS
Spread onion slices on baking sheet. Drizzle with some of the butter, turning slices to coat both sides.
Place onions under broiler and cook until golden, basting with additional butter.
Turn onions to cook both sides. Onions should be tender, but crisp and golden.
Grill steaks to desired doneness. Drizzle onions with barbecue sauce.
Toss tomatoes in vinaigrette and put on top of the onions.
Serve with T-bone steaks and deep fried okra.