---
Festive Sweet Potato Poutine
---
INGREDIENTS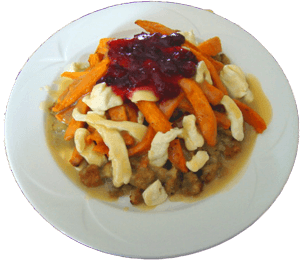 DIRECTIONS
Prepare the stuffing and gravy according to the package directions.
Fry the sweet potato fries to order.
Layer ingredients; starting with warm stuffing, crispy sweet potato fries, cheese curds, shredded turkey breast, smother it all with piping hot turkey gravy, finally top with cranberry sauce.
Serve immediately.
Add a festive twist to a Canadian favourite! Quick and easy to prepare this meal can be up scaled or down scaled to suit any restaurant. Perfect for a fall menu or just feature it on your lunch board. Creat your own signature festive poutine by making your own stuffing and gravy! This will not only change the flavour profile but increase your profits as well!