---
Turkey Turnovers
---
INGREDIENTS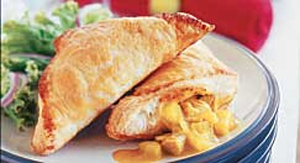 2 tbsp butter   #44110
1 onion, chopped
1 stalk celery, chopped
1 tart apple, chopped
1 tbsp all-purpose flour   #09125
1 tsp mild curry powder or curry paste   #13940
1/2 cup turkey stock or chicken stock   #02891
1 cup diced cooked turkey   #32862
2 tbsp mango chutney
1 frozen puff pastry sheet, thawed   #36102
1 eggs, beaten   #33520
1 tbsp milk   #44141
DIRECTIONS
In saucepan, melt butter over medium heat; cook onion, celery and apple, stirring occasionally, until softened, about 4 minutes.
Add flour and curry powder; cook for 2 minutes.
Stir in stock; simmer until thickened, 4 minutes. Remove to bowl; let cool.
Stir in turkey and chutney.
Cut puff pastry sheet into 6 squares.
Place about 2 oz filling in center of each.
Beat egg with milk; lightly brush pastry edges with some of the mixture.
Fold in half diagonally and seal.
Place on parchment paper-lined rimmed baking sheet.
Repeat with remaining pastry and filling. (Make-ahead: Cover and refrigerate for up to 6 hours.)
Lightly brush turnovers with egg mixture.
Bake in 375°F (190°C) oven until golden and puffed, about 25 minutes.
Serve hot.
Great as a lunch special, with a salad!
"Turkey is one of the most versatile meats to use up as leftovers. Besides making a great sandwich or soup, try a casserole or a cold salad. Using spices and sauces to reinvent your turkey can be fun. Here are a couple of recipes for your leftover turkey."