---
Lemon & Oregano Roasted Leg of Lamb with Potatoes
---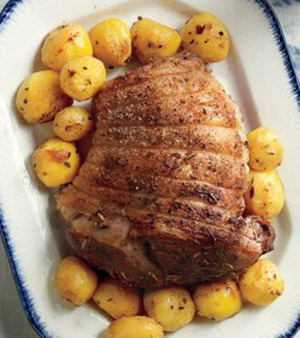 A wonderful Easter dinner choice, serve alongside garlic and rosemary potatoes and your choice of vegetables.
INGREDIENTS
Lemon zest and juice from 2 lemons
8 Garlic cloves crushed   #05230
3 tbsp Fresh parsley chopped   #87120
2 tbsp Oregano dry   #14016
1/2 cup Extra-virgin olive oil   #13736
1 - 5lb Boneless leg of lamb   #65512
Coarse salt and ground pepper to taste
DIRECTIONS
In a medium bowl, combine lemon zest, juice, garlic, parsley and oregano; whisk in oil. Pat lamb dry and season with salt and pepper. Place lamb in a 1-gallon resealable bag and pour in marinade. Seal bag, pressing to remove as much air as possible. Turn bag several times to coat lamb in marinade. Let sit at room temperature 1 hour (or refrigerate overnight), flipping bag halfway through.
Preheat oven to 450. (If lamb was marinated overnight, remove from refrigerator 1 hour prior to cooking.)
Remove lamb from marinade, letting excess drip back into bag. Place lamb leg along with marinade in a roasting pan, season generously with salt and pepper. Roast for 30 minutes then reduce oven temperature to 300 and cook until medium-rare (an instant-read thermometer should read 125 when inserted in thickest part of lamb), 1 to 1 1/4 hours.
Tent pan loosely with foil and let lamb rest 20 minutes before slicing. Approximately 8 - 8oz servings.
ROSEMARY GARLIC POTATOES
5oz of McCains Baby Roasted Potatoes - deep fry for about 6 mins. Place in a bowl with chopped rosemary and garlic butter and toss until well coated. Serve with 8oz of sliced lamb.
Profit Potential
Approx. Cost - $5.63/meal
Suggested Sell - $17.99-$20.99
Profit - $12.36-$15.36
*Includes a provision of $0.85 for steamed carrot sticks & tzatziki sauce.