---

Sweet BBQ Chicken Kabobs
---
INGREDIENTS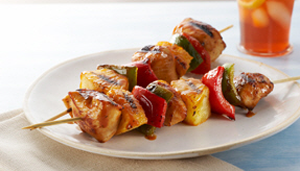 1 lb. chicken breasts, (1 " pieces)   #31622
2 cups fresh pineapple chunks (1" pieces)
1 each red & green pepper, cut into (1" chunks)
1/2 cup Kraft Original BBQ Sauce   #06375
3 Tbs. orange juice   #10104
10" bamboo skewers   #55497
DIRECTIONS
HEAT barbecue to medium-high heat.
THREAD chicken alternately with pineapple and peppers onto bamboo skewers, using 2 skewers placed side-by-side for each kabob.
MIX barbecue sauce and juice concentrate; brush half evenly onto kabobs.
GRILL 8 to 10 min. or until chicken is done, turning and brushing occasionally with remaining sauce.