---
Satay Sauce
---
Satay sauce is a rich peanut and coconut-based sauce used in Thai cuisine. This thick, creamy sauce is perfect to serve with chicken, pork or beef skewers. Satay sauce can also be served over vegetables or meats on a bed of rice. How about, using any leftover sauce to make a cold Thai pasta salad for tomorrows lunch special. Use penne, apple chunks, ginger, chicken chunks, green onions and small bits of broccoli.
INGREDIENTS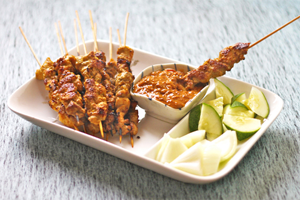 1 (10 oz) can coconut milk   #11135
1/2 cup crunchy peanut butter
1/2 small onion, grated
1 tbs dark soy sauce   #06485
2 tsp brown sugar   #09603
1/2 tsp red pepper flakes
DIRECTIONS
In a saucepan over medium heat, combine coconut milk, peanut butter, onion, soy sauce, brown sugar, and pepper flakes.
Bring to a boil, stirring frequently.
Remove from heat, and keep warm.
"Thai cuisine is very trendy and this is an easy way to incorporate it into your menu."