---
Oven Steamed Trout in Parchment
---
INGREDIENTS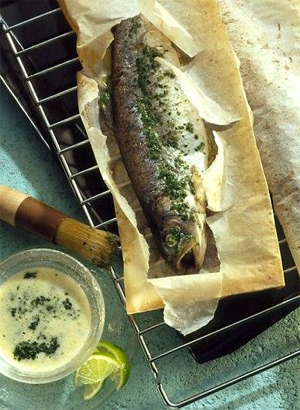 ¾ cup chopped parsley
¼ cup olive oil   #13736
2 tbsp minced garlic   #05225
2 tbsp grated orange peel
¾ tsp salt   #13791
¾ tsp black pepper   #14030
12 (6-7oz) Trout Fillets   #42441
12 pieces parchment paper, 12" x 16"   #55649
DIRECTIONS
Combine first 6 ingredients; reserve.
Fold each piece of parchment in half; then open and place 1 trout fillet, skin-side down, close to fold.
Sprinkle each fillet with parsley mixture.
Bring top half of parchment over trout; fold edges together to form a tight seal.
Place parchment packages on baking sheet, bake at 425° F for 11-14 minutes.
Time will vary depending on oven heat distribution.
NOTE:
Packets may be prepared ahead and refrigerated up to 4 hours.
"Trout is one of the most recognized species of fish in the world, a perfect addition to any menu. It's firm, smooth texture and mild, nutty taste lends itself to a world of flavours. It is an excellent source of DHA and EPA Omega-3s. that will satisfy your patrons demand for healthier menu offerings."