---
Potato Cabbage Soup
---
INGREDIENTS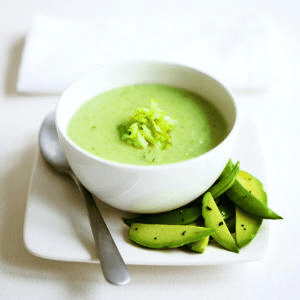 1 Tbsp olive oil
  #13736
1 Tbsp unsalted butter
  #44115
1/2 head Savoy cabbage, shredded
3 scallions, trimmed and chopped
3 garlic cloves, peeled and halved
1/2 tsp kosher salt
  #13792
4 cups chicken broth
  #44151
2 cups boiled potatoes, cut in 1/2-inch slices
  #87113

DIRECTIONS
Heat the oil and butter in a large saucepan over medium heat.
Add the cabbage, scallions, garlic, and salt and cook until the cabbage is slightly softened, about 5 minutes.
Remove 1/3 cup of the cabbage and set aside for garnishing.
Add the chicken broth and potatoes and bring to a boil.
Simmer, covered, until the cabbage is tender, about 15 minutes.
Using a blender, puree until smooth and season to taste with additional salt, if desired.
Before serving, garnish the soup with the reserved cabbage.