---

Bold Eggs Benedict
---
INGREDIENTS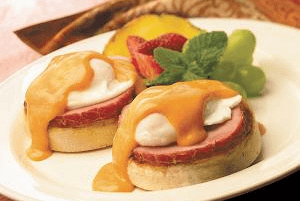 DIRECTIONS
To make Hollandaise sauce, in small saucepan whisk milk and sauce until smooth.
Add butter, Frank's Chili n' Lime Sauce and cumin.
Stirring constantly, heat to boiling over medium heat.
Reduce heat and simmer, stirring, 1 minute.
To assemble, top each muffin half with 1 slice Canadian bacon, 1 poached egg and about 2 Tbsp hollandaise.