---
Buffet Meatballs
---
INGREDIENTS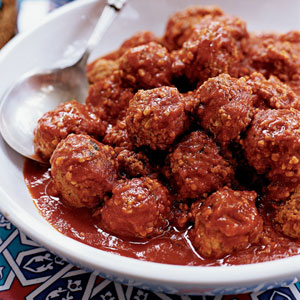 1 cup grape juice
1 cup apple jelly
1 cup ketchup   #06975
8oz tomato sauce   #00737
4 pounds meatballs   #23405
DIRECTIONS
In a small saucepan, combine the juice, jelly, ketchup and tomato sauce.
Cook and stir over medium heat until jelly is melted; remove from the heat.
Place meatballs in a 5-qt. slow cooker.
Pour sauce over the top and gently stir to coat.
Cover and cook, on low for about 4 hours.