---
Vegetable and Veal Rollups
---
INGREDIENTS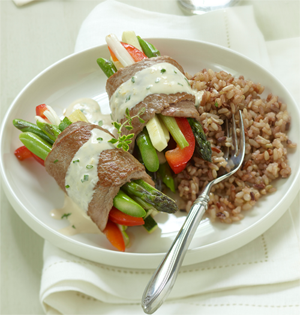 8 veal cutlets or scallopini   #28150
12 asparagus spears, halved crosswise
1 red pepper, thinly sliced
1 zucchini, cut into 3-inch long spears
4 green onions, sliced in 3-inch lengths
2 tsp olive oil   #13736
1/2 tsp each, coarse salt and fresh cracked pepper
1 cup chicken broth   #44151
1/2 cup light spreadable cream cheese   #20807
1 tbsp fresh chopped chives
2 tsp lemon zest
1/2 tsp each, fresh chopped thyme and tarragon
DIRECTIONS
Preheat oven to 400 F (200 C).
Arrange veal cutlets on a flat, clean surface with the narrow end facing you.
Arrange assorted vegetables at the front of each piece of veal.
Roll up and place seam side down on a parchment-lined, rimmed baking sheet.
Brush all over (vegetables too) with oil and sprinkle with salt and pepper.
Bake in the centre of the oven until the veal is cooked through and vegetables are tender crisp, about 8 to 12 minutes.
Meanwhile, in small saucepan, bring chicken broth to boil over medium high heat.
Whisk in cream cheese until smooth.
Let reduce slightly and whisk in chives, lemon zest, thyme and tarragon.
Remove from heat.
Serve over veal roll ups.
Makes 4 to 6 servings.