---

Smoked Cheddar Double-Baked Potatoes
---
INGREDIENTS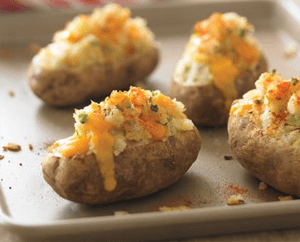 DIRECTIONS
Preheat the oven to 350°F. Bake for 1 hour, or until tender. Let them cool for 30 minutes.
Meanwhile in a small skillet over medium heat, melt the butter. Add the onions and garlic and cook for 2 to 3 minutes, until the onions are soft. Set aside.
Slice the top off the potatoes and scoop out the pulp into a medium bowl. Set the skins aside. With a potato masher, crush the potato pulp. Add the onion mixture, cream, salt, and pepper and mix well. Add the cheese and fold gently until mixed well.
Spoon the potato mixture back into the shells. Sprinkle lightly with paprika. Put the potatoes on a baking sheet and return to the oven for 15 minutes, or until hot.