---
Simple Butternut Squash Soup
---
INGREDIENTS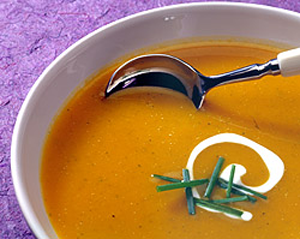 4 cups frozen diced butternut squash   #18245
2 tbsp butter   #44110
1 medium onion, chopped
1 stalk celery, chopped
1 medium carrot, cubed
6 cups chicken stock   #02863
Non-stick spray   #13610
Nutmeg   #13990
Salt freshly ground black pepper
Garnish; cream & chives, chopped
DIRECTIONS
Spray a roasting pan with a non-stick spray, roast diced squash in the oven for 8-12 minutes.
In a large pot melt butter and saute onion, celery and carrot until tender, about 8 minutes.
Add squash and about 3/4 of the stock.
Bring to a simmer and cook, about 20 to 30 minutes.
Transfer soup to a blender and blend until smooth.
Return to pot, and mix in any remaining stock to attain desired consistency.
Stir and season with nutmeg, salt, and pepper.
Garnish with a twirl of cream and chives.
"Winter vegetables are very popular and meet the growing demand for low fat healthy cooking, that your customers are asking for. This product makes your work load lighter while maintaining all the flavour and goodness."