---

Shrimp Creole
---
INGREDIENTS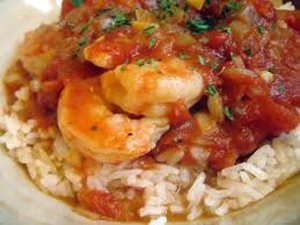 4 tbs bacon grease
4 tbs flour
2 cup finely chopped yellow onion
1 cup finely chopped celery
1 cup finely chopped green bell pepper
2 tbs minced garlic
1 1/2 teaspoons salt
1 tsp crushed red pepper, or to taste
4 bay leaves
4 tbs tomato paste
3 cups finely chopped, peeled, seeded tomatoes
1 20 oz. can chopped tomatoes with the juice
3 tsp chopped fresh oregano
4 tsp chopped fresh basil
2 tsp chopped fresh thyme
2 tsp grated lemon zest
2 tsp Worcestershire sauce
3 tsp hot pepper sauce
4 cups cold shrimp stock or fish stock
2 lb medium shrimp, peeled and de-veined   #42335
1/2 cup chopped fresh parsley
1/2 cup chopped green onion, green tops only, garnish
DIRECTIONS
In a large Dutch oven, heat the bacon grease over medium heat. Add the flour, and stir constantly with a heavy wooden spoon until a light brown roux forms, about 6 minutes.
Add the onions, celery, and bell pepper and cook over medium heat, until the vegetables are tender, 5 to 6 minutes. Add the garlic, salt, red pepper, and bay leaves, and cook, stirring, for 30 seconds. Add the tomato paste and cook, stirring constantly, until it starts to colour, about 2 minutes. Add the tomatoes, oregano, basil, thyme, lemon zest, Worcestershire, and hot sauce, and cook, stirring, for 2 minutes. Add the stock and bring to a boil. Reduce the heat to low and simmer, uncovered, until the sauce thickens , 20 to 25 minutes, stirring occasionally.
Add the shrimp and parsley, and cook, stirring occasionally, until the shrimp are just cooked through and pink, about 3 minutes. Remove from the heat and discard the bay leaves. Serve over rice, pasta or as an appetizer with a side of garlic bread. Garnish with green onions.