---
Classic Banana Split
---
INGREDIENTS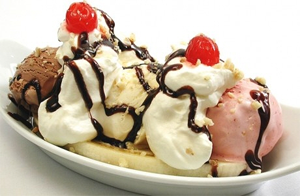 1 small banana cut lengthwise in two
1/2 cup vanilla ice cream   #47101
1/2 cup chocolate ice cream   #47102
1/2 cup strawberry ice cream   #47103
1oz caramel dessert topping   #11223
1oz chocolate dessert topping   #11226
1oz strawberry topping   #11256
3oz whipped cream   #37533
2 cherry   #11215
DIRECTIONS
Scoop out vanilla ice cream on to plate, then scoop out chocolate and set beside vanilla, finally scoop out the strawberry and set beside the chocolate all in a row.
Place sliced banana lengthwise on each side of ice cream.
Drizzle caramel topping on vanilla ice cream, chocolate on the chocolate ice cream and strawberry on the strawberry ice cream.
Garnish with whipped cream and cherry.