---
Pulled BBQ Chicken on a Bun
---
This recipe is perfect for this time of year. Warm and comforting and so easy to prepare.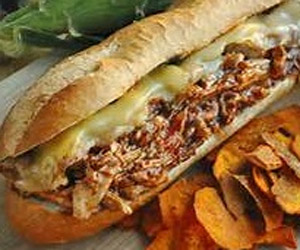 INGREDIENTS - Makes 8 sandwiches
3 lbs boneless, skinless chicken breasts chunks #59701
1½ cups Chipotle BBQ Sauce #06403
½ medium onion, grated (with juice)
1 Tbsp olive oil #13731
1 Tbsp Worcestershire sauce #06535
2 Tbsp brown sugar #09603
3 cups smoked mozzarella shredded #20645
8 Swiss Panini Buns #38352

DIRECTIONS
1 - Stir together BBQ sauce, grated onion, Worcestershire
sauce and brown sugar in a 5-6 qrt slow cooker.
2 - Add chicken and turn to coat. Cover and cook on high
3 to 4 hours or on low for 6-7 hours. Chicken is done when cooked through and easy to shred.
3 - Remove chicken to a cutting board and shred each breast using two forks.
Place shredded chicken back in the crock pot and stir to coat with the sauce.
4 - Place saucy chicken on a bun and top with shredded smoked mozzarella.
Place sandwich in the oven to toast bread and melt cheese for 1-2 minutes.
5 - Served with a side of sweet potato fries and coleslaw.