---
Spaghetti Carbonara
---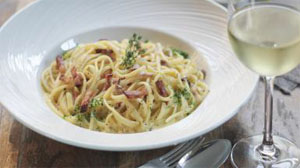 Spaghetti Carbonara is a rich and creamy dish and most people consider it a treat! Not something they would typically make at home.
This makes it a perfect entrée for your menu.
Also a profitable alternative on your holiday menu.
The premium quality local bacon and cheese in this recipe make it delicious and unique!
INGREDIENTS
1 500gm package of spaghetti   #11502
¼ cup heavy cream   #44161
4 large organic eggs   #33521
½ lb Seed to Sausage double smoked bacon   #76625
1 tsp extra virgin olive oil   #13741
2 Tbsp chopped Italian parsley   #87120
Kosher salt and freshly ground black pepper, to taste
¾ cup freshly grated Farmstead Aged Cheese   #20495
DIRECTIONS
Makes 4 sevings
Drop the spaghetti into the boiling salted water and cook according to package instructions, about 6 to 9 minutes or until al dente, or tender but still firm to the bite.
Meanwhile, add diced bacon to a sauté pan and cook slowly over a low heat for 10 to 15 minutes or until crisp. Remove bacon from pan and drain on paper towels.
Combine the eggs, cheese, cream and olive oil in a bowl and beat with a whisk until completely mixed.
Scoop out 1/2 cup of the pasta water and set it aside. Drain the pasta, then return it to the pot along with the bacon. With the pot off the heat, add the egg and cream mixture and stir briskly while the sauce thickens up. You can adjust the consistency with some of the reserved pasta water.
Transfer to serving bowls and garnish with the chopped parsley and freshly ground black pepper. Serve right away, with additional grated cheese if desired.
PROFIT POTENTIAL


Approx. Cost - $4.87




Suggested Sell - $15.99 - $18.99




Profit - $11.12 - $13.12




*Includes a provision of $.50 for slice of garlic bread