---
Swiss-Style Veal Scallopini
---
INGREDIENTS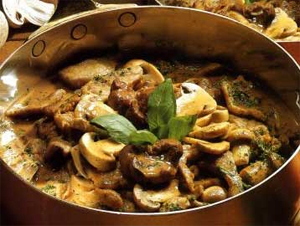 1 lb. 5 oz. Veal Scallopini   #28150
9 oz fresh mushrooms, sliced
1 onion, thinly sliced
2 tbsp oil
3/4 cup white wine   #10445
3/4 cup heavy cream   #44151
4 tsp butter   #44115
8 tsp flour   #09125
salt and pepper
DIRECTIONS
Sauté the scallopini pieces in very hot oil ( 1 tablespoon) browning on both sides.
Remove the cooked scallopini from the skillet and set aside.
Add another tablespoon of oil to the hot skillet and then the mushrooms and onion.
Season with salt and pepper.
Sauté everything. Add the wine and cream.
Blend in the butter, sprinkle in the flour and then stir the sauce.
Bring to a boil and then lower the heat once the sauce has thickened.
Add back the cooked scallopini pieces and cover with the sauce.
Remove from heat plate and serve.