---
Cheesy Capicola Chicken
---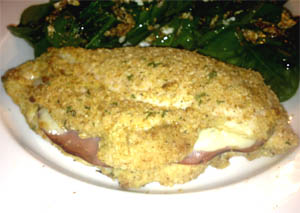 This Chicken dish has a wonderful Italian flare with the distinct flavour of capicola and provolone cheese. Feature it with roasted potatoes and vegetables, a side salad or a side of pasta.
INGREDIENTS
8 boneless butterfly chicken breasts   #58708
16 slices capicola   #76901
8 slices provolone cheese   #20729
2 cups Italian bread crumbs   #09039
2 large eggs   #33520
1/4 cup grated parmesan cheese   #20793
1/2 cup oil (for frying)   #13720
salt and pepper to taste
DIRECTIONS
Pre-heat oven to 400 degrees.
Lightly pound butterfly chicken breast to flatten evenly and season with salt and pepper.
Mix bread crumbs and parmesan cheese in a bowl. In a separate bowl scramble the two eggs.
Dip the chicken breast in the eggs then coat with the bread crumb mixture on both sides.
Place 2 slices of capicola & 1 slice of provolone cheese on each chicken breast and fold over. (you may secure with a toothpicks if necessary)
Place oil in a large sauté pan and heat on med - high. Sear the stuffed chicken breasts until lightly browned on both sides. About 2 minutes on each side.
Set the browned chicken breasts on a baking sheet and oven bake for another 10-15 minutes.
Let chicken rest for 3 minutes then plate and serve with roasted potatoes & vegetables, a side salad or a side of pasta.
PROFIT POTENTIAL

(One 8oz portions per entrée)

Approx. Cost - $5.71/entree

Suggested Sell - $16.99-$18.99/entrée

Profit - $11.28-$13.28/entrée

*Includes a provision of $1.45 for green beans,

and roasted potatoes.