---
Turkey Lovers Pizza
---
INGREDIENTS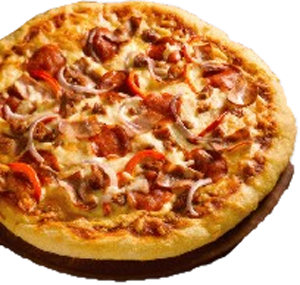 1 large pizza shell or large ball prepared pizza dough (20 oz)
2 tbsp cornmeal
2 tbsp olive oil
1/2 cup pizza sauce
1 1/2 cup mozzarella cheese, shredded
12 oz chopped turkey
6 oz pepperoni
3 slices bacon, cooked
1 cup red peppers, thinly sliced
1 cup red onions, thinly sliced
DIRECTIONS
Preheat oven to 450ºF (235ºC).
Roll pizza dough to measure 16 to 18" in diameter.
Sprinkle pizza pan with cornmeal and place rolled dough on pan.
Brush pizza with olive oil and top with pizza sauce spreading evenly leaving a 1" border with no sauce.
Top pizza sauce evenly with cheese and remaining ingredients.
Bake for 35-40 minutes in a conventional oven or until dough is golden and cheese is melted.