---

Crispy Seafood Medley with Hollandaise Sauce
---
INGREDIENTS (makes 1 serving)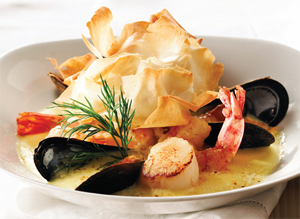 100 mL Inspiration Hollandaise Sauce   #02681
25 mL Clarified Butter   #44110
2 Med Shrimps peeled and deveined   #43150
2 Med Scallops   #42507
5 Mussels   #65033
15 mL Dill Weed, finely chopped   #06701
To Taste Inspiration Condiment Mix for Fish   #02662
30 mL Cooking Sherry
60 g Parmesan Cheese   #20702
1/8 of a sheet Philo Dough, prebaked at 400°F until crispy

DIRECTIONS
Prepare the Inspiration Hollandaise Sauce in a sauté pan, heat the butter until almost smoking, then sear the shrimps and scallops until 80% cooked.
PLACE mussels, dill weed, Inspiration Mix for Fish and sherry in the hot pan. Cook covered until the mussels open.
ADD hollandaise, shrimps and scallops & sear. Cook on broil until cheese is browned.
TOP with the crispy philo dough and serve.