---
Chili Con Carnie
---
Chili con carne is a great chili recipe that can be served on its own or over pasta or rice for an even heartier winter meal. Garnish with a spoonful of sour cream or shredded cheese.

INGREDIENTS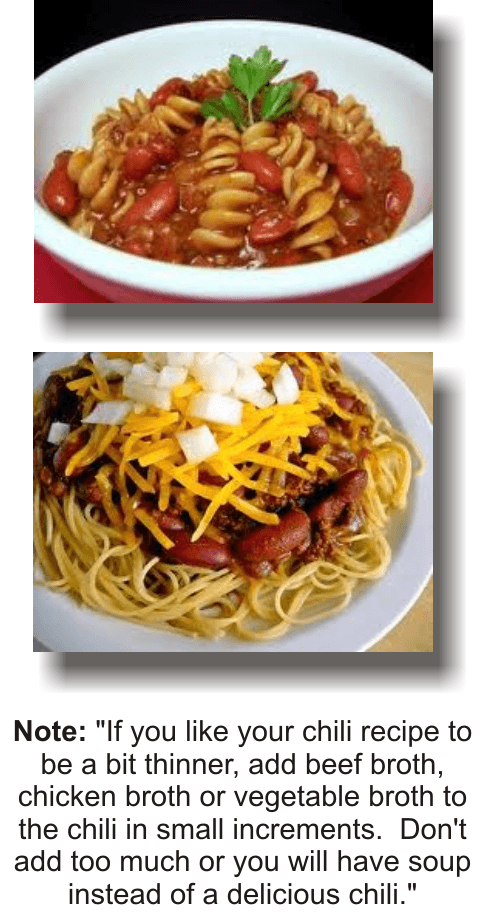 1 lb lean ground beef   #22375
1 can black beans, drained   #01520
1 can red kidney beans, drained   #00540
2 cups cooked pinto beans   #02136
15 ounces tomato sauce   #00735
28 ounces diced tomatoes   #00718
15 oz can green chiles
6 cloves garlic, minced   #87135
1 red bell pepper, chopped   #87023
1 med. jalapeno, seeded and minced
1 large onion, chopped   #87040
2 tbsp olive oil   #13731
3 tbsp chili powder   #13900
1 1/2 tbsp. brown sugar   #09603
3 tsp dried oregano   #14015
2 1/2 tbsp. ground cumin   #13938
1/8 tsp ground allspice   #13850
1/8 tsp ground cinnamon   #13920
DIRECTIONS
Place oil in a large stockpot and heat to medium heat. Add ground beef, and cook while stirring until the meat just loses its red color.
Add green chiles, garlic, red bell pepper, jalapeno, and onion to the meat. Saute until the onions are translucent.
Stir in chili powder, brown sugar, oregano, cumin, allspice, and cloves, Add tomatoes and tomato sauce. Simmer on low heat for 15 minutes.
Add black beans, pinto beans, and cannellini. Cook for an additional 30 minutes.