---
German Potato Salad
---
INGREDIENTS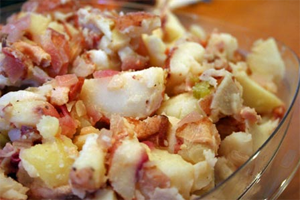 3 lbs small red-potatoes, washed well
10 slices bacon, cut into 1/4-inch strips
1/2 cup chopped green onion
1/2 teaspoon sugar
3 tbsp cider vinegar
3/4 cup beef broth
2 tbsp chopped fresh parsley
DIRECTIONS
In a large saucepan combine potatoes with salted water to cover by 1 inch and simmer until just tender, about 20 minutes.
In a large heavy skillet cook bacon until browned and crisp and transfer to paper towels to drain.
Drain potatoes and let stand until cool enough to handle.
Cut potatoes into eighths and in a bowl combine with bacon.
Keep mixture warm and covered.
Pour off all but 3 tablespoons fat from skillet and sauté onion over moderately high heat, stirring until softened, about 3 minutes.
Add sugar, 2 tbsp vinegar, and broth and simmer 2 minutes.
Add onion mixture to warm potatoes with parsley and remaining 1 tbsp vinegar, tossing gently, and season with salt and pepper.
Serve potato salad warm or at room temperature as a side dish to any sausage meal, garnished with parsley.