---
Potato Salad with Dill
---
INGREDIENTS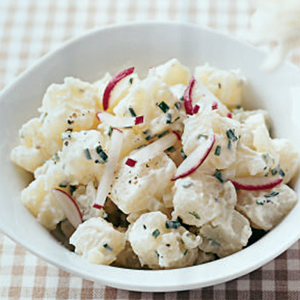 3 Lbs new potatoes, unpeeled, cubed
1 cup frozen green peas, thawed
3/4 cup finely chopped red onion
2 tsp dill weed
2 tbsp chopped fresh chives
1/2 cup mayonnaise
1/2cup plain yogurt
2 tbsp lemon juice
Coarse salt
freshly ground black pepper
DIRECTIONS
Boil potatoes in salted water until tender.
Drain potatoes, transfer to large bowl and set aside to cool for a bit.
Once potatoes are cooled slightly, cut into cubes, add the red onion, dill, chives, mayonnaise, yogurt and peas. Drizzle with lemon juice and toss gently to coat.
Season with salt and pepper, to taste.