---
Blueberry Peach Crunch Cake
---
INGREDIENTS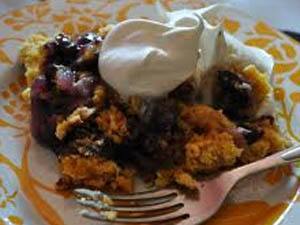 3/4 cup butter, plus more for dish
20oz canned peaches with juice
20oz blueberry pie filling
1 (19oz) box yellow cake mix
1 cup chopped pecans

DIRECTIONS
Preheat oven to 350 degrees F.
Butter a 13 x 9-inch casserole dish.
In a small bowl, melt 3/4 cup butter in the microwave.
Slice peaches thin and with juice, pour into the casserole dish.
Layer blueberry pie filling on top and evenly spread it out.
Cover with dry yellow cake mix and top with pecans.
Drizzle with melted butter and bake for 40 to 50 minutes.
Super fast, easy and really tasty! Serve warm with a scoop of ice cream or whipped cream!