---

Chicken Paprika
---
INGREDIENTS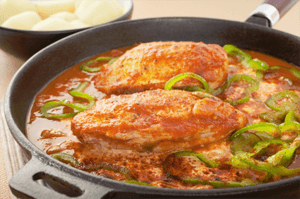 6 chicken breasts - boneless   #59779
flour as required   #09125
100 g butter - salt free   #44115
275 g onions - chopped   #87035
35 g paprika   #14020
150 g diced tomatoes in juice - tinned   #00695
35 g tomato puree   #00730
450 ml boiling water
20 g chicken base paste No MSG   #02891
2 bay leaves   #13875
225 g celery - sliced   #87016
125 g green peppers - sliced   #87022
10 g garlic chopped   #05225
225 ml cream   #44166
4 ml lemon juice   #10262
freshly ground black pepper to taste   #13877
DIRECTIONS
Cover chicken with flour.
Melt 50 g of butter in a pan and fry chicken until golden. Set aside.
Melt remaining butter in a saucepan, add onions and fry gently until soft and golden.
Sprinkle on the paprika and stir in.
Add the tomatoes, tomato puree, garlic puree and cook for about 5 minutes, stirring well.
Season with freshly ground black pepper.
Pour water over chicken base and mix well.
Add stock, bay leaves,celery and green peppers to pan and bring to a boil.
Return chicken to pan and cover with the lid. Simmer for about 20 minutes.
Remove the bay leaves and the chicken.Pour the sauce into a food processor and blend until smooth. Return chicken and sauce to the pan and heat through.
Stir in cream, lemon juice, and serve.
Serves 6.