---
Ahi Tuna Poke Appetizer
---
INGREDIENTS: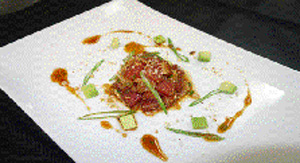 1 ea fresh garlic clove, finely chopped
¼" fresh ginger, finely chopped
¼ cup soy sauce
2 tsp sambal oelek
1 tsp sesame oil
1 ea shallot julienne sliced 1/8th
1 ea scallion, sliced 1/8" on a bias
Separate white from green
6 leaves cilantro, finely chopped
6 oz Ahi tuna poke
GARNISH:
2 tsp macadamia nuts, toasted & finely chopped
¼ each avocado, diced
DIRECTIONS: (Yield 2/3oz portions)
Prep and mix the first 6 ingredients plus the white part of the scallions.
Thaw the Ahi tuna completely and add to the above mixture.
Cover & allow to sit in the refrigerator for 30 minutes.
To plate: with a slotted spoon, place one portion in the centre of a cold plate.
Garnish with scallion greens, chopped macadamia nuts and diced avocado.
Serve with rice crackers.
Keeping with the trends of today, this recipe is sure to please. Recipe compliments of Export Packers.