---
Pecan Crusted Salmon
---
INGREDIENTS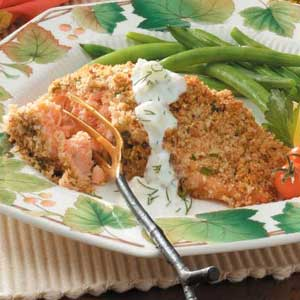 DIRECTIONS
PREHEAT the oven to 400 degrees F .
In a small bowl, mix together mustard, butter, and honey.
In other bowl, mix bread crumbs, pecans, and parsley.
SEASON each salmon fillet with salt and pepper.
Place on a lightly greased baking sheet.
Brush with mustard-honey mixture.
Cover the top of each fillet with bread crumb mixture.
BAKE for 10 mins or until salmon just flakes when tested with a fork.
Serve garnished with lemon.