---
Chicken Saltimbocca
---
Use Campbell's sauteed mushroom & onion bisque soup as a base for other menu items to save on time and to cross utilize your product.
Other Applications:
MUSHROOM GRAVY
Use as-is, pour over a grilled steak.
MUSHROOM MARSALA
Reduce mushroom and onion bisque soup then add a splash of Marsala wine.
INGREDIENTS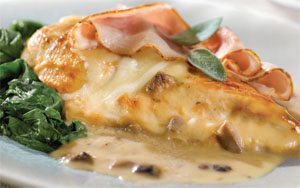 8 - 8oz Chicken breasts bnls/sknls
1L - Sautéed Mushroom & Onion Bisque Soup
8oz - Prosciutto, sliced
8oz - Shredded mozzarella cheese
¼ cup - Fresh sage leaves, whole
¼ cup - Italian parsley, chopped
DIRECTIONS
Pan sear or grill chicken breasts until seared and lightly browned.
Top each breast with 2 oz of mozzarella and a slice of prosciutto and transfer to a 350 degree oven.
Bake until cheese begins to bubble and chicken is fully cooked.
Transfer to a serving plate and pour over 4 oz of Sautéed Mushroom and Onion Bisque; garnish with 1 tsp sage leaves and 1 tsp of parsley.