---

Cream of Brie Soup
---
INGREDIENTS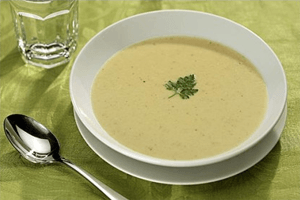 1/4 cup butter   #44115
1 small onion, minced
3 stalks celery, chopped
1/4 cup all-purpose flour (#9125)
4 cups chicken stock (#2863)
1/2 lb Brie with the rind, cubed   #20632
1/2 cup heavy cream   #44166
1 tbs of green & red peppers, chopped fine
DIRECTIONS
MELT the butter in large pan, cook onions and celery until translucent, about 5 minutes.
Stir in the flour, and cook for 3 minutes, stirring constantly.
Gradually whisk in the chicken stock and simmer.
Stir in the Brie cheese, and allow to melt for about 5 minutes.
POUR the soup into a blender, filling the pitcher no more than halfway full.
Using a few quick pulses to get the soup moving before leaving it on to puree.
Puree until smooth, and pour into a pot.
Heat the soup to almost simmering, pour in the cream.
Garnish with red and green pepper strips & serve.