---
Zesty Calamari Salad
---
INGREDIENTS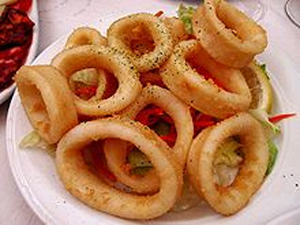 6oz breaded calamari
8oz romaine lettuce
1 small roma tomato
2oz black olives
½ pepperoncini
2oz spicy ranch dressing.
DIRECTIONS
Tear lettuce, chop tomato and pepperoncini. Layer on a serving platter as such.
Next layer the olives and the deep fried calamari (recipe on our website or choose one of our already breaded varieties).
Top with a spicy ranch dressing.