---
Spicy Catfish Strips
---
INGREDIENTS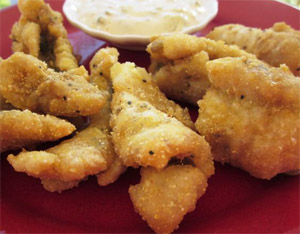 1 large egg   #33520
2 tbsp Frank's hot sauce   #06450
4 catfish fillets, cut into 1/2" strips   #42418
1/2 cup flour   #09125
3/4 cup fine cornmeal   #09115
1/2 tsp paprika   #14020
1/2 tsp salt
1/2 tsp pepper
1 tbsp cajun seasoning   #14213
1 tsp granulated garlic   #13960
SPICY TARTAR SAUCE
DIRECTIONS
Make Tartar Sauce: Mix all ingredients in a bowl and chill, until ready to use.
Whisk together egg and hot sauce in a wide shallow dish.
Place fish in egg mixture, mix & let soak for about 20-30 minutes.
Make sure your fryer is set at 350°F.
Mix flour, cornmeal, paprika, granulated garlic, Cajun seasoning, salt & pepper in a wide shallow dish. Dredge fish in flour mixture, shaking off excess flour.
Fry fish, stirring occasionally with a slotted spoon, until golden brown and just cooked through,1 1/2 to 2 minutes, remove with slotted spoon and drain.
Serve with tartar sauce & lemon wedge.