---
Warm, Spicy Lobster Cheese Dip
---
INGREDIENTS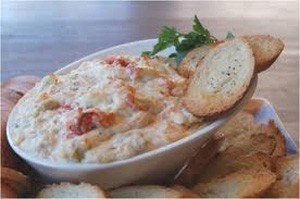 8oz can of lobster, thawed and chopped   #42471
1/2 cup onion, chopped   #87035
4 garlic cloves, chopped   #87135
2 tbsp olive oil   #13734
6 ounces cream cheese, softened   #20807
2 tbsp sour cream   #44156
2 tbsp heavy cream   #44166
1 tsp Tabasco garlic pepper sauce   #06522
1 tsp Worchestershire sauce   #06529
1 tbsp mayonaise   #05165
1/2 cup grated parmesan cheese   #20702
1/2 cup cheddar-mozza blend, shredded   #20665
salt & pepper (to taste)
DIRECTIONS
In a small pan, saute onion and garlic with olive oil on med-high heat.
Turn the stove off and add lobster, cream cheese, half and half cream, Tabasco garlic pepper sauce, worchestershire sauce, mayonaise and parmesan cheese to the pan. Stir until well incorporated, 2-3 minutes.
Spoon mixture into 6oz oven safe baking dishes sprayed lightly with cooking spray.
Top with cheddar-mozza blend and bake for 7-10 minutes in a 350 degree oven.
Serve immediately with garlic buttered crostini.