---
Turkey Oatmeal Meatballs with Spinach
---
INGREDIENTS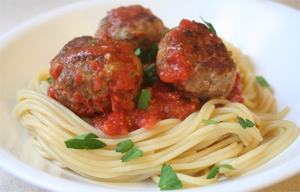 1/2 cup instant oats
1/4 cup nonfat plain yogurt
1/2 cup frozen baby spinach
1 tsp frozen basil
1/4 cup grated parmesan
1 egg white
3 cloves garlic, finely chopped,
1 tsp salt
1/2 tsp freshly ground black pepper
1/2 Lb all-white-meat ground turkey
1 tsp olive oil
1 can (26 oz) diced tomatoes, plus juice
1/2 cup dry white wine
4 oz whole-wheat pasta, cooked
DIRECTIONS
Heat oven to 400°. Mix oats and yogurt with 1/4 cup water in a bowl until oats begin to absorb liquid.
Add spinach, basil, parmesan, egg white, half the garlic, salt and pepper, and stir.
Add turkey and mix until well combined.
Form into 16 2-inch meatballs.
In an oven safe pan add meatballs and bake until they begin to brown, 20 to 25 minutes, turning once half way through.
Add remaining garlic, basil sprig, tomatoes and wine.
Cover and cook until meatballs are cooked through and sauce begins to thicken, another 20 minutes.
Serve with cooked whole wheat pasta.
4 Servings.