---
Indian Squid Curry
---
INGREDIENTS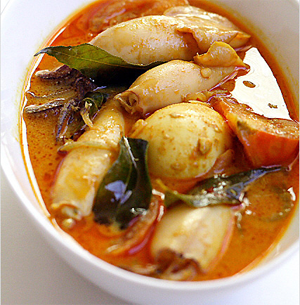 1 lb squid (cleaned)
1 tomato (cut into wedges)
1 can coconut milk (5.6 oz. can)
4 hard-boiled eggs (shell peeled)
4 tbsp fish curry powder
1 tsp spice mix (fenugreek, black mustard, cumin, and fennel seeds)
1 sprig curry leaves (discard the stem)
2 cups water
2 tbsp cooking oil
4 shallots (sliced thinly)
1 tbsp chili oil
Salt to taste
DIRECTIONS
Rinse squid and set aside. Heat up a pot with the cooking oil and saute the shallots.
As soon as you smell the shallots aroma, add in the squid, curry powder, curry leaves, spice seeds, and tomato wedges.
Quick stir for 1 minute and dish out the squid and set aside (to prevent overcooking the squid).
Add coconut milk, hard-boiled eggs, and water and bring the curry to boil for 8 minutes.
Add the squid back in and quick boil for 1-2 minutes (before they shrink in size).
Add chili oil and salt to taste. Serve hot with steamed rice.