---
Turkey Schnitzel with Apple Cider Turkey Gravy
---
This gravy is really good on its own, but when you add a little apple cider and apple cider vinegar, this seasonal version of turkey gravy is delicious! Try this recipe as a feature, not only can you charge more, but the unique flavour will set you apart from the competition. Be creative!
Recipe courtesy of Luda Inspiration.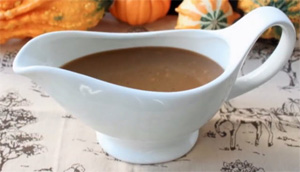 DIRECTIONS:
Prep the instant turkey gravy mix according to package directions. Keep warm.
In a medium sauce pan, add the prepared instant turkey gravy, apple cider, apple cider vinegar and parsley. Stir well. Bring to a boil for two minutes, then allow to simmer to reduce to roughly a liter in volume. Adjust seasonings with salt and pepper. Reserve the sauce for later use.
Blend eggs and cream. Dredge the cutlets in the seasoned flour, then the egg/cream mixture and finally the bread crumbs.
For Banquet Service: Shallow fry the Schnitzel at 350°F until about 80- 90% cooked and place on a baking sheets with parchment lined trays. Five to ten minutes before the service of the main course, brush each Schnitzel with clarified butter and warm up in a 400°F convection oven for about four to five minutes or until the center is fully cooked and warm.
For Order Service (à la minute): Shallow fry for four minutes in canola oil or, for added flavour, a blend of clarified butter and canola oil. Serve the warm sauce napped on a corner of the schnitzel or in a sauce boat (on the side). Serve with lightly buttered string beans and a serving of warm German potato salad.