---

Grilled Stuffed Pork Chop
---
INGREDIENTS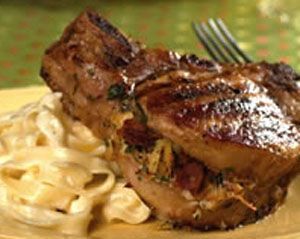 2 ounces smoked cheddar cheese, shredded   #20620
4 slices bacon, cooked and crumbled   #27148
1/4 cup diced apple   #87002
1/4 cup chopped fresh parsley   #87120
1/8 tsp ground black pepper   #13884
2 (14oz, bone-in) pork chops   #27176
1 tsp olive oil   #13736
1/4 tsp sea salt   #13793
ground black pepper
DIRECTIONS
Combine the cheese, bacon, apple, parsley, and 1/8 tsp black pepper.
Lay the chop flat on cutting board, and with a sharp knife held parallel to the board, cut a pocket into the pork, going all the way to the bone, but leaving the sides intact.
Stuff cheese mixture into pocket, and close with a wooden toothpick. Brush meat with oil, and season with salt and pepper.
Pan sear in olive oil over medium heat for 3 to 4 minutes per side, then finish on the chargrill for another 3 to 4 minutes per side to create your grill marks. Careful not to overcook!
PROFIT POTENTIAL
*per serving
Approximate Cost-$6.98
Suggested Sell-$18.99
Profit-$12.01
*Includes a provision of $0.72 for a side of creamy fettuccini alfredo.