---
Seafood Stuffed Squid
---
INGREDIENTS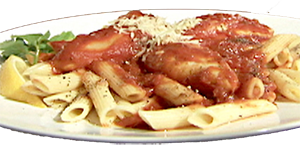 1 tbsp olive oil
1/4 cup finely chopped onion
1/2 tsp kosher salt
1 clove garlic, finely minced 8 to 10 whole squid (about 3 to 5 inches each)
2 ounces raw shrimp
1/4 cup fresh bread crumbs
2 tbsp finely chopped tomato
2 tsp lemon zest
2 tsp finely chopped fresh ginger
1 tsp chopped fresh parsley leaves
1/4 tsp freshly ground black pepper
2 cups prepared tomato or spaghetti sauce
DIRECTIONS
Preheat an oven to 375 degrees F. Heat the olive oil in a medium saute pan over medium heat until simmering. Add the onions and salt and sweat until the onions turn translucent, about 1 to 2 minutes. Do not brown. Add the garlic and continue to cook for another minute. Transfer the mixture to a medium mixing bowl and set aside to cool.
Rinse the squid thoroughly, turn the tubes inside out (since the outside skin tends to curl outward, it'll hold the stuffing better inside out), put into a bowl and set in the refrigerator until ready to use. Place the tentacles and the shrimp into the bowl of a food processor and pulse 6 to 8 times or until there are no large pieces visible. Do not process until smooth. Transfer to the mixing bowl along with the onions and garlic. Add the bread crumbs, tomato, lemon zest, ginger, parsley and pepper. Stir to combine well.
Place the mixture into a resealable freezer bag and snip 1 corner. You may use a pastry bag with a tip just small enough to fit into the end of the tubes. Pipe the stuffing into the tubes, dividing the mixture evenly between them. Do not over-stuff. Place the tubes into a glass baking dish and cover with the tomato sauce. Cover tightly with aluminum foil and bake for 30 minutes. Serve immediately over prepared pasta.