---

Crab Cake Benny
---
INGREDIENTS (makes 10 portions)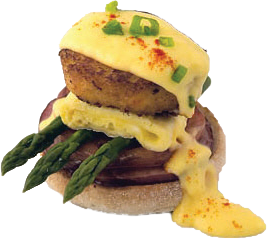 100 mL Inspiration Hollandaise Sauce   #02681
5 mL Lemon Juice   #10210
25 g Butter or substitute   #44113
1 Slice Bacon   #27130
To taste Salt and Pepper
1 Tomato sliced, 1/2 cm thick   #87154
1 Crab Cake (60-75 g)   #43250
1 Egg, lightly beaten   #33510
1/2 English Muffin, toasted & buttered   #36395
10 mL Chives, finely chopped   #87129
DIRECTIONS
PREPARE the Hollandaise Sauce & add a drop of lemon juice. In a saute pan melt the butter and sear the bacon. Season the tomato with salt and pepper, then brown on both sides.
HEAT the crab cake until the middle is hot. Using the same butter as the bacon and tomato, cook the
beaten egg in an egg ring.
TOAST the english muffin. butter then top with bacon, egg, tomato and the warm crab cake.
SPRINKLE with chopped chives and serve with a side of steamed asparagus.