---
Loaded Leek & Potato Soup
---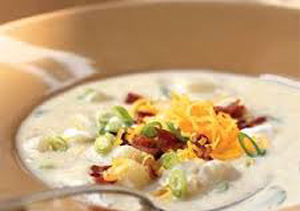 Soup du Jour's dry Leek & Potato Soup Mix can be prepared and served as is or loaded up! It's a gluten free product. Pair it up with a gluten free roll and it makes a great meal!
INGREDIENTS
DIRECTIONS
Prepare soup mix according to package directions. Remove from heat, let cool slightly then add potatoes, cream, and half of the bacon.
Return to the stove top and simmer on low for 10 minutes to blend flavours.
Pour soup into bowls. Serve with crumbled bacon, sour cream, green onions and shredded cheese on top.
Makes 10/8oz servings
PROFIT POTENTIAL
Approx. Cost - $2.92 - Suggested Sell - $6.99-$7.99
Profit - $4.07-$5.07/serving
*Includes a provision of $.81 for gluten free garlic toast.