---
Baked Macaroni, Cheese and Ham
---
INGREDIENTS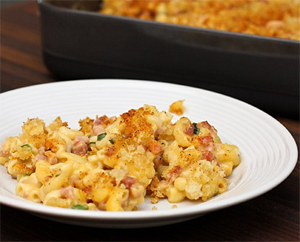 6 tablespoons butter
4 tablespoon flour
1 3/4 cup milk
1 cup shredded Swiss cheese
1 cup shredded cheddar cheese
1/4 cup parmesan cheese
5 cups cooked macaroni
3 cups cooked, diced ham
1 cup bread crumbs
1/4 cup diced scallions
DIRECTIONS
In a large saucepan over medium-low heat, melt butter; add flour and stir until smooth and bubbly.
Gradually stir in milk.
Continue cooking, stirring, until sauce just begins to bubble and sauce has thickened.
Combine sauce with cheese, hot cooked macaroni, scallions, ham and 1/2 the bread crumbs; mix well.
Pour into buttered casserole dish. Sprinkle remaining bread crumbs over the top of the macaroni.
Bake at 350° for about 20 to 25 minutes.
Serves 6-8.
" Fardella has produced a superior black forest ham, with an authentic deli flavour. Enjoy it for breakfast, in sandwiches, wraps and more!"