---

BBQ Chicken Salad

---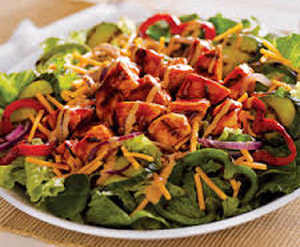 Perfect on your summer menu. Familiar flavours, tasty and easy to prepare. Makes 6 meal size salads.
INGREDIENTS:
1 cup Cattleman's Classic Kansas city BBQ sauce   #06365
1 cup Hellman's Ranch salad dressing   #05519
3 tbsp Madly Maple mustard   #07073
24oz diced and grilled chicken chunk meat   #59701
6 cups mixed salad greens   #87048
1 medium red onion, sliced   #87036
1 small cucumber, sliced   #87414
1 small red bell pepper, sliced   #87023
1 avocado, sliced
1 cup shredded cheddar cheese   #20595
DIRECTIONS:
Combine BBQ Sauce, ranch dressing and madly maple mustard. Reserve 3/4 of the dressing for the salad.
Toss grilled cooked chicken breast with remaining dressing, place in a container, cover and chill in the refrigerator for at least an hour.
For each salad, place 1 cup of greens on large plate and top with equal parts; red onion, cucumber, red bell pepper and avocado.
Top with 4oz sauced chicken breast and 2oz of cheese.
Drizzle with BBQ ranch dressing and serve with garlic bread on the side.
For a Spicy BBQ & Blue Cheese Chicken Salad; Change the ranch dressing to blue cheese dressing, the Madly Maple mustard to Touch of Hell mustard and shredded cheddar for crumbled blue cheese.
PROFIT POTENTIAL
Approx. Cost - $4.19
Suggested Sell - $10.99 - $13.99
Profit - $6.80 - $9.80
*Includes a provision of $.47 for garlic bread.