---
Cottage Cheese Style Potatoes
---
INGREDIENTS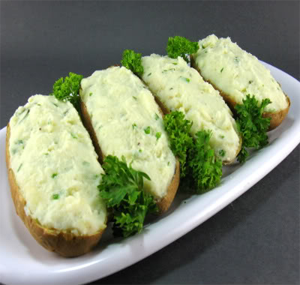 4 medium baking potatoes
3/4 cup cottage cheese   #44149
1/4 cup milk
2 tbsp soft margarine
1 tsp dill weed
3/4 tsp Italian herb seasoning   #13975
4-6 drops hot pepper sauce
2 tsp grated parmesan cheese   #20690
1 cup shredded cheddar cheese   #20590
DIRECTIONS
Bake at 425F for 60 minutes or until fork is easily inserted.
Cut potatoes in half lengthwise.
Scoop out potato with a spoon, leaving about 1/2 inch of pulp inside shell.
Mash pulp in large bowl.
Mix by hand remaining ingredients except parmesan and shredded cheese.
Spoon mixture into potato shells.
Sprinkle each top with 1/4 teaspoon parmesan cheese.
Top with shredded cheese and place on baking sheet and return to oven.
Bake 15-20 minutes or until tops are golden brown.