---

Roasted Chicken with Chorizo & Root Vegetables

---
The chorizo in this recipe gives it a peppery kick and the root vegetables make it a perfect dish for your fall/winter menu!
A true comfort food.
INGREDIENTS: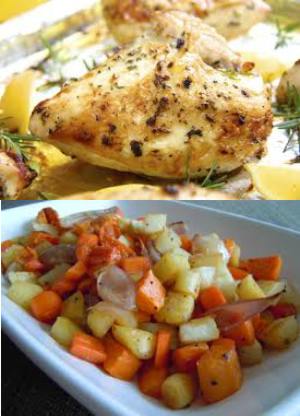 1 tsp garlic powder
1 yellow onion - cubed
2 tsp kosher salt
1.5 cups carrots - cubed
8 chicken supreme - skin-on
1 lb new potatoes - cubed
1 tbsp olive oil
1 lemon - quartered
1 lb chorizo - finely chopped
6 whole garlic cloves - peeled
4 sprigs fresh thyme
1 cup chicken broth
3 sprigs (4" long each) fresh rosemary
Ground black pepper to taste
DIRECTIONS:
Heat the oven to 350°F.
In a large bowl, toss vegetables with oil; season to taste with salt, pepper and garlic. Arrange in a large roasting pan and roast for 10 minutes.
Meanwhile, season the chicken breast with salt and garlic. Heat skillet with olive oil and sear chicken for 4-5 minutes. Transfer the chicken to a plate.
Add the chorizo to the skillet and sauté for 4 minutes. Add the thyme and rosemary. Heat for 30 seconds. Add the chicken broth and scrape all the tasty bits from the bottom.
Pull the vegetables out of the oven and place the breasts in the roasting pan. Pour the chorizo and herb mixture over the vegetables and chicken, lightly toss until coated with the chorizo and herbs.
Cover the pan and roast for 25-35 minutes, or until the chicken reads 160°F.
Use a slotted spoon to transfer the chicken, vegetables and chorizo to a serving bowl. Discard the lemon quarters and any herb stems.
Place the roasting pan over medium heat and cook until reduced and thickened, about 2-3 minutes. Season with salt and pepper to taste.
Serve the sauce drizzled over the chicken.
This recipe can be prepared up to step 5 then separated into individual oven safe dishes.
When ordered just microwave for 3-4 minutes and finish roasting in the oven for 20-25 minutes, or until the chicken reads 160°F.
PROFIT POTENTIAL per MEAL
Approx. Cost - $5.02
Suggested Sell - $13.99 - $15.99
Profit - $8.97 - $10.97