---
Trout Italiano
---
INGREDIENTS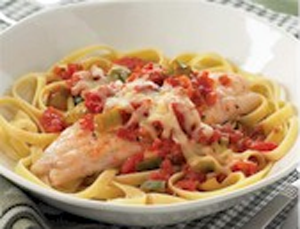 12 Trout fillets boneless 7-9 oz   #42441
Salt and Pepper
1/3 cup olive oil   #13736
1 1/2 cups diced onion 8 garlic cloves, minced   #05225
3 cups chopped green pepper
1 cup sliced celery
2 tsp dried oregano   #14016
1 tsp dried basil   #13870
4 cups drained canned diced tomatoes   #00718
2 1/4 cups shredded mozzarella cheese   #20670
Cooked fettuccine or other pasta

DIRECTIONS
Pat fillets dry with absorbent paper; arrange in a single layer in a large oven-proof baking dish.
Season with salt and pepper.
Heat olive oil in a large saucepan. Add onion, garlic, green pepper, celery, oregano, and basil.
Sauté until vegetables are tender, stirring frequently.
Add tomatoes and cook for an additional 5 minutes.
Spoon tomato mixture over fillets; sprinkle with cheese.
Bake at 350°F (180°C) for 20 minutes, or until fish is cooked through and cheese is bubbly.
Serve over pasta.