---
Salmon with a Homemade Grain Mustard Crust
---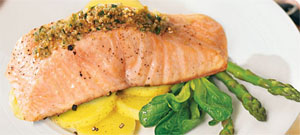 Quick and simple is always welcome in the kitchen. This recipe is perfect for any restaurant. It offers a healthy choice with a simple mix of flavours. Recipe compliments of True North Salmon Company.
INGREDIENTS
Four 6 oz (180 g) Salmon Portions   #40306
4 tbsp (60 ml) ground brown mustard seed
1/2 tbsp (7 ml) sea salt
3/4 cup (190 ml) ice wine or sweet white wine
2 tsp (10 ml) finely chopped shallots
2 sprigs tarragon
2 cups (500 ml) boiled, sliced potatoes
4 cups (1 l) spinach with a dash of pepper
4 tbsp (60 ml) mustard vinaigrette
DIRECTIONS
Combine mustard seed, chopped shallots and tarragon. Then add the ice wine.
Spread over the top side of the salmon. Place salmon, skin side down, in a large fry pan on medium heat until the bottom is cooked a third of the way through. Then broil for 3-7 minutes or until salmon flakes easily with a fork.
Mix the potatoes, spinach with the dash of pepper, mustard vinaigrette and sea salt.
Place the potato salad in the center of the plate, then place the cooked salmon on top and serve.
PROFIT POTENTIAL per MEAL
Approx. Cost - $4.92
Suggested Sell - $13.99 - $15.99
Profit - $9.07 - $11.07